All Raincoast Trading (Raincoast) canned salmon and tuna products are now MSC (Marine Stewardship Council) certified and eco-labelled, solidifying the company's position as a sustainability leader in the retail packaged seafood category and allowing consumers to make an informed and responsible choice when shopping.
"The Raincoast brand was established 25 years ago with a goal of making very high quality, sustainable seafood accessible to everyone," said Steve Hughes, president of Raincoast and Nanaimo, B.C.-based processor St. Jean's Cannery & Smokehouse. "Our product line and distribution have grown over the years, but sustainability is part of our DNA and is always part of the conversation we have about all of our products."
Raincoast products can be traced back to the fishery and boat. Raincoast tuna is individually caught from certified fisheries on the west coast of Canada and in the Maldives Islands. All salmons are sourced from certified North American salmon harvests.
"We began using the [Marine Stewardship Council] MSC eco-label on some products several years ago, but feel it is important to broaden its application," said Hughes. "We want consumers to feel confident in knowing their food is coming from a local, independent, and audited eco-label. It allows them to be part of the solution,"
MSC is the world's leading sustainable, wild-caught seafood certification program. It upholds a science-based set of requirements for sustainable fisheries and seafood products world-wide in addition to highlighting efforts to safeguard wild fish populations and their ecosystems.
"We are very happy to see our partner Raincoast reinforcing their commitment to sustainability which will further contribute to making a meaningful difference to the future health of our shared ocean," said Brian Perkins, Regional Director Americas at the Marine Stewardship Council. "From certified fisheries that are committed to sustainable practices, to companies sourcing sustainable products, and consumers' mindful purchases, we all have a role to play in safeguarding seafood for future generations."
Raincoast tuna products have also topped Greenpeace's Canadian tuna sustainability ranking for its dedication to responsible and ethical sourcing. These products are also green-rated in Greenpeace's Tuna Guide for Healthier Oceans because of Raincoast's sourcing policy that supports coast fisheries.
"Sustainability is more than important to us," said Larry Johnson, president of Nuu-chah-nulth Seafood LP, Raincoast's majority shareholder. "It is who we are and it is exemplified in our St. Jean's and Raincoast Trading products."
RELATED RESOURCE: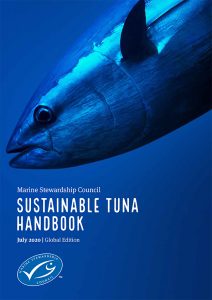 Download the MSC Sustainable Tuna Handbook HERE: