Jugs & Cans: A Reaping is a current feature exhibit by writer, journalist and cultural programmer, Ivy Knight, at the Burlington Art Gallery as part of the How to Read a Vessel exhibition, which runs from September 10th to January 9th and is a free exhibit.
It is a collection of empty vessels; jugs, cans, bottles and boxes, collected from women in food across Canada and the United States since 2019.
The containers hold the stories and struggles of the cooks, bakers, food writers, restaurateurs and servers who opened, emptied, and used them. In the exchange of vessels and accounts, she gives their stories a new life. Knight enrobes the objects in brightly coloured yarn. These crocheted vestments hold the donor's voiced realities in a protective shield of craft.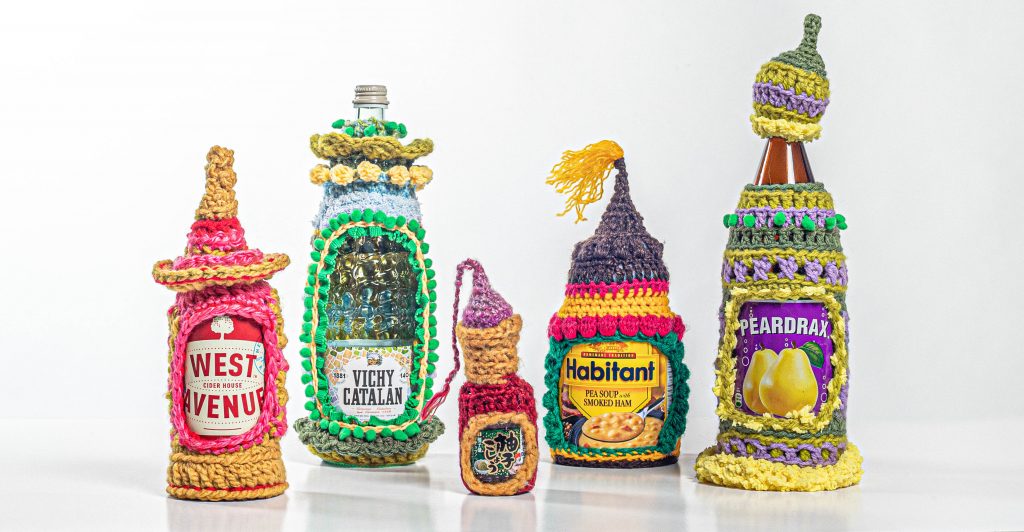 "10,000 restaurants in Canada have permanently closed since March 2020. Of the 48,000 workers in the retail, accommodations and food services industry who lost their jobs in fall of 2020, 80 per cent were women. This increase in unpaid labour has already reduced women's contribution to the economy. If this extra burden lasts, it will cause more women to leave the labour market permanently, reversing progress towards gender equality and reducing productivity in the economy." – Ivy Knight, artist*
Contributors to the more than 180 vessels that make up Jugs & Cans include:
CANADA
Jen Agg, Bar Vendetta + others
Alyssa Figueira, Matty's Patty's
Suzanne Barr, Wall of Chefs
Kate Chomyshyn, Birria Balam
Lev Levine, Lox & Schmear
Meeru Dhalwala, Vij's + others
Emily Dinh, Momofuku Noodle Bar
USA
Helen Rosner, The New Yorker
Laurie Woolever, Bourdain: The Definitive Oral Biography
Misti Norris, Petra & The Beast
Christina Tosi, Milk Bar
"As museums and galleries face the rising demand for repatriation, racial justice, and economic parity, the food industry has begun to question the colonialism, racism, and hetero-patriarchal systems of oppression in kitchen culture. As a writer, journalist, and programmer Ivy has built a career advocating for better working conditions. This collection of over 180 containers becomes another form of editorial research. Her interview methodology uncovers truths of the systems inherent in the restaurant scene and points to gendered inequities, uncovers sexual violence, and humanizes and normalizes recovery narratives," Suzanne Carte, AGB Senior Curator.
How To Read a Vessel runs from September 10th to January 9th and is a free exhibit. The gallery is open Tuesday to Fridays from 12-5 PM and Saturdays from 10 AM – 5 PM.  The Jugs & Cans exhibit companion text can be purchased for $10 and includes photography by Stacey Newman and quotes from many of the contributors, including Laurie Woolever, Christina Tosi, Helen Rosner and others.
For more details, please visit AGB – Jugs & Cans: A Reaping
ABOUT IVY KNIGHT
Ivy Knight is a regular contributor at the New York Times, Food & Wine, Refinery29, Playboy, and others, and has been a Vice correspondent since 2013. During her career, she has interviewed everyone from Anthony Bourdain to Dan Levy, Sheila Heti and Miranda July. She was nominated for the Landsberg Award for her investigative work with the Globe and Mail at the height of the Me Too movement. Before all this, she spent a decade working in restaurant kitchens.
Editor's Note: Stacey Newman, editor-in-chief of SUSTAIN Magazine also has a vessel in the exhibition and she photographed Knight's artwork for the accompanying book.