Since the beginning of the pandemic, there has been a vast increase in food insecurity across Canada.
The figures are staggering.
A CBC report shows that since the virus hit numbers across Ontario have been going through the roof. The Mississauga Food Bank saw a 120 per cent increase in first-time users, the Ottawa Food Bank had 400 per cent more calls from people needing food support, and the Sudbury Food Bank agency saw a 150 per cent jump in people accessing emergency food support.
Meet Kitty Raman Costa, she began her job as Operations Manager at the Parkdale Community Food Bank in March 2020. Possibly the craziest time in history to start work in that particular sector.
The food bank business is booming, which is not a good thing. Demand this month is so high that food banks are running out of food.
Here's everything you need to know about how best to support your local food bank during the toughest time of the year. Cash is king, but Optimum Points and instant coffee can help too.
What is the situation at the Parkdale Community Food Bank right now?
Our client base has risen 75 per cent since the beginning of the pandemic. We served around 2,000 clients per month, now we're up to 3,500. A lot of our clients are new to using services like this, they're not sure how to do it because they've never done it before. If they owned a restaurant or salon and had to shut down—that's a very common situation. Often, they are stuck in leases that are quite expensive and they don't have much money, even with government support. Or we have clients who are single moms who had to leave work because they are unable to work from home and care for their child. That's really common.
Can you explain to me why a dollar in the hands of a food bank is worth more than a dollar in my hand?
When you donate financially, we are able to get very good prices on the food we purchase. We (recently) purchased grapes at ten dollars per case, with twelve clamshells of grapes in each one. So that's less than a dollar per box of grapes. That's the kind of prices we can get. Another way that is helpful for us is that a lot of people have Optimum points and they choose to donate those to the food bank. They'll go to the store and use points to purchase items for us, which is really helpful and doesn't cost money.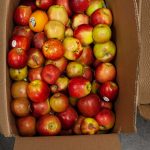 If I only have a few dollars should I even bother donating? Is there any amount that's too small?
There's really not. Even if you donated fifty cents, it will still be added to everything else. If 10 people donate a dollar, that's still ten dollars and we can purchase a lot of food. January and February are the slowest months for donations. Many of our clients are living outside without access to many resources. These two months are really hard, so any contribution at this time is helpful. Food doesn't last long, especially with the amount of clients we serve.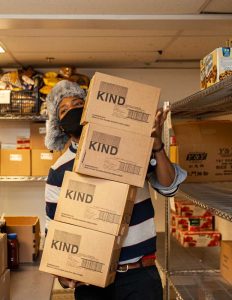 Let's talk about the food itself. You're set up to take perishable food donations?
We have a walk-in fridge and freezer that we use to store all of the food for our clients. We accept all food items as long as they are unopened and unexpired. Most of our clients request fruit and vegetables that can be prepared without access to a kitchen—apples, cucumbers, pears, tomatoes. Things that people can just eat. It's definitely helpful to donate things that our clients may not be able to afford, like butter, cheese, meat and eggs. Deli meat is a common request. Frozen meat, especially in smaller packages. If you buy a club pack, we have to repackage it, which can be difficult.
Are there any other food items that are in demand, especially for clients who are living outside?
Ensure (or meal replacement drinks). Instant coffee, that's really helpful because they can dump it in a water bottle and shake it up. Pet food; a lot of houseless individuals still have pets and they need food. Tetra-packed milk, cans that have pop tops, especially canned chili. A lot of encampment residents request that exact item. I think because it's pretty substantial and easy to heat up. Granola bars and protein bars, fruit and vegetable nutrients that don't need to be refrigerated, like apple sauce in individual packs. People in rooming houses, seniors without access to kitchens, that is a huge demographic. We provide them with meals that can be reconstituted in boiling water, like instant oatmeal.
Other than food, what else do your clients request?
If our clients don't have the funds to go to a grocery store and purchase food, they obviously need hygiene products as well. Toothpaste, toothbrushes, shower gel, soap, shampoo. We've been working with The Period Purse, they offer menstrual products to anyone who cannot purchase them.
Without access to hygiene products, our clients are unable to function normally—to feel comfortable and dignified when leaving their house. These products are very important and they go very fast.
Do you feel like the number of clients you serve will go down once everyone is vaccinated?
No. I think it's going to go up. We ran out of food due to high demand today.
The economic implications of Covid haven't been fully realized yet. That's what's affecting our clients most—many of them are small business owners who've had to shut down. That's been hard for us, just hearing our clients' stories. Many new people are using these services and that could be anyone in your community.
Donation drop-off at 1499 Queen Street West. Call (416) 532-2375 for a volunteer to assist you. 
Wednesdays and Thursdays 9 to 3 pm, Fridays and Saturdays 9 to 1:30 pm.
To DONATE to the Parkdale Community Food Bank CLICK HERE
To access Parkdale Community Food Bank services CLICK HERE
DONATE AND/OR ACCESS SERVICES ACROSS THE COUNTRY USING THE LINKS BELOW:
Community Food Sharing Association 
Nunavut Community-Based Food Programs
Food Depot Alimentaire, New Brunswick