By Kimberly Neale and Maralyn Ellis
Meet Maria. At 21, Maria landed her first real job at a local franchise of a national coffee shop. Bright, cheerful, and chatty, she had no problem starting work, but sustainable employment proved more difficult. You see, at 15 Maria was diagnosed with autism spectrum disorder (ASD), an often-invisible disability. At first, her managers and co-workers were super helpful because she was new, but as time went on her communication differences led to misunderstandings, and eventually, Maria disclosed her challenges in hopes of a positive outcome for everyone.
Because as it turns out, hiring persons with neuro-differences is good for business. Did you know there are over 500,000 Canadian adults with ASD and/or an intellectual disability who are ready, willing, and able to work? But only 1 in 4 are actually employed. This despite a strong business case for neuroinclusive hiring, with over 90 per cent of surveyed employers rating employees hired through a national initiative Ready, Willing and Able (RWA) as equal or better in punctuality, attendance, and use of sick days than the average (Source: Ready, Willing and
Able).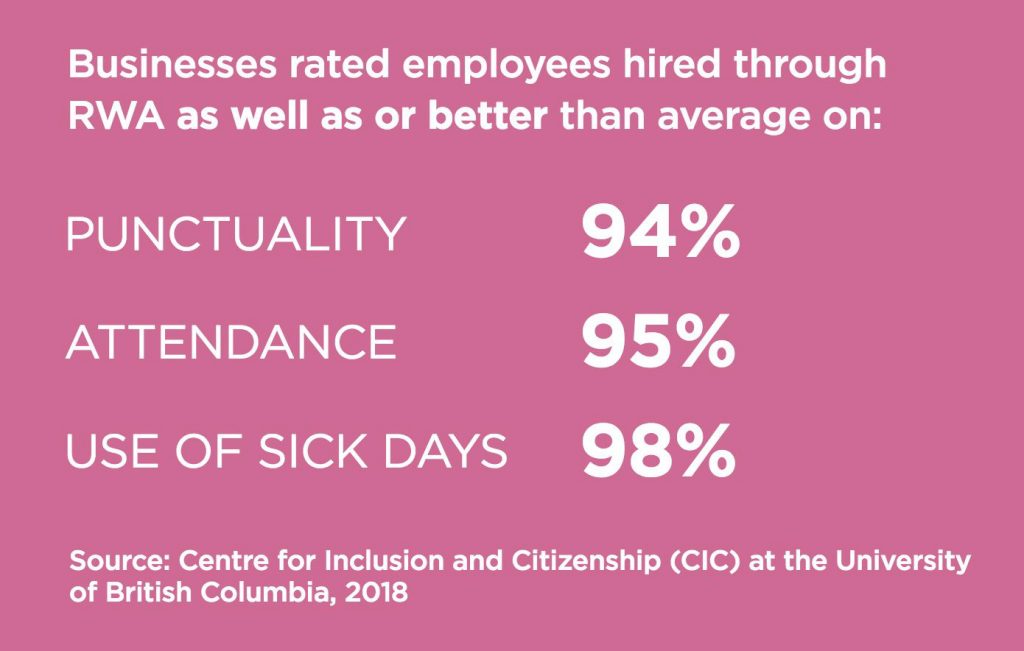 So why aren't more businesses hiring this readily available workforce? Companies form the bedrock foundation for a neurodiverse and inclusive universe and the employees are at the pinnacle. A 2020 research project showed some common steps between this bedrock and pinnacle in order to illustrate a blueprint for employers.
To successfully and sustainably support, introduce and integrate employees with ASD or other neuro-differences into an employment setting, it is important to choose the right model and resources to ensure effectiveness. Depending on the size and budget of the employer business, there are resources, tools, and solutions available that align with and support neuroinclusive employment goals, needs, and capacities.
Solutions can be purchased as a turnkey program, such as Project SEARCH—an employer-designed model with 600 programs across the globe—or customized using different resources, specialists, and community partners to implement a solution that works for the needs and capacity of the organization.
It all starts with a champion for neurodiversity resulting in a change to inclusion policy and directives. Best practices for a neuroinclusive organization often include:
• weaving full inclusion into organizational values, mission, and practices,
• creating welcoming, engaging and pleasant environments with zero-tolerance for
• exclusion and/or bullying,
• encouraging disclosure during the interview process so support needs can be
• determined and put into place,
• introducing accessible employment, on-boarding, and training practices, including
• experience sessions to replace behavioural interviews,
• building awareness with current and future employees,
• assigning dedicated staff to consult with external subject-matter experts and partners,
• developing partnerships and advisory teams, including internal and external
• stakeholders to ensure critical training and supports are in place,
• ensuring all meetings, communications, training, and events are accessible,
• adopting and delivering supportive performance management practices for all
• supervisors and people managers, including regular check-ins and evaluations, and
• developing person-centred employment plans and transition goals for all employees.
• With support at every step, including personnel, inclusive hiring practices, continuous learning
• and coaching and support, best practices for employees with ASD or neuro-differences to
• create an environment and eco-system for all abilities to thrive may include:
• encouraging comfort and familiarity by advanced introduction to the work environment,
• ensuring the physical environment is accessible or that appropriate modifications are in
• place, like noise-cancelling headsets or quiet work areas,
• beginning employment as a group to foster relationship and peer support networks,
• setting visual goals and recognizing achievements,
• offering wayfinding maps or instructions throughout the workplace or at work stations,
• training in travel and team-building and communication activities,
• providing an initial job coach or skills trainer to learn the essentials of the job through
• task and needs analysis, and develop a person-centred training plan until core skills can
• be performed independently,
• providing accommodations and assistive technology solutions, if required,
• introducing employee immersion and experiential learning,
• providing opportunities for employees or candidates to network and connect with
• employees at all levels, inside and outside of their department,
• providing ongoing career skills development training for all employees, and
• creating a buddy-system for job and social integration support.
By introducing and following the stages and elements of a blueprint for a neurodiverse workforce, inclusive employers report overwhelmingly positive results. Neurodiverse employees are transitioning and integrating successfully into the workplace.
With proven employment practices and supports in place, neurodiverse employees are performing diverse tasks at a level of ability equal, and sometimes superior, to their peers, to the benefit of the organization and all of the people employed by them.
Demonstrated and documented best practices for achieving sustainable, inclusive employment and adopting new strategies like those outlined in the blueprint—from recruitment to supportive performance management to career development—are achievable, effective, and beneficial.
What step is your organization on in the pyramid for developing a neurodiverse workforce?
Now 23, Maria is an asset to her employer, she has learned to speak up and is firm in her intention to support her employer's goal to be a neuroinclusive organization. Sometimes, she still needs reassurance that she is doing her job properly, but she is worrying less about taking a bit more time to get up to speed on new tasks. Maria has hope that change is just around the corner for accepting everyone in the workplace, for all of their unique differences.
About the Authors
Kimberly Neale is transforming and modernizing inclusive employment as a founder and director of Distinctability, where she strives to make positive impacts on the lives of others, connecting businesses and people to achieve outstanding, inclusive results with innovative solutions like Brain in Hand.
Maralyn Ellis is promoting awareness, acceptance and appreciation for neurodiversity as an advocate and champion with Futures Found, where she shares her passion for honouring individual differences in being a catalyst for change through the Hire Autism initiative and facilitates a peer-to-peer support group, Autism Job Club.