Karbon Brewing Co. aims to create a greener, more equitable Canadian brewing industry. Setting the goal to become the country's first carbon-negative brewery by 2024, Karbon is using beer to spark important conversations about sustainability and social justice.
The idea for Karbon Brewing came after a consulting gig took co-founders Stephen Tyson and Yves St Amand to Wolfe Island. While helping a local hotel strategize for more sustainable operations, the pair noted an abandoned brewery found nearby the property. "On our drive home, we decided that we should just combine those two things and leverage our background in hospitality with our passion for sustainability," says Tyson.
Traditionally, brewing consumes large amounts of natural resources, with further waste generated by packaging and shipping. "There's a lot of water that goes into it and a lot of power and electricity and heat. Even the barley and malt that go into it—all of that agriculture has a huge environmental footprint," explains Tyson.
The abandoned brewery on Wolfe Island was not destined to become home for the Toronto-based team's new project (although Karbon does source some of its hops from Wolfe Island). Instead, they're contract brewing out of Toronto's Junction Craft Brewery. Tyson recruited former Mill Street brewmaster Bernardo Zamora, who shares their commitment to sustainability, to develop Karbon's beer line-up.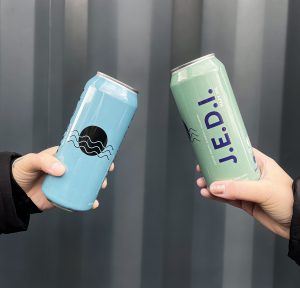 Officially launched in 2020, Karbon is still in its nascency but they're working with eco-friendly initiatives, while also laying the groundwork for their ambitious long-term goals.
Tyson says one of the first steps has been tracking their carbon footprint using a carbon accounting software from US-based start-up Persefoni. "You can't really do anything about your carbon footprint if you don't know what it is," says Tyson. "We're tracking everything that we're doing so we can start to reduce it."
With the help of companies like Bullfrog Power, Karbon is learning how to harness green energy technology during the brewing process. Tyson says that part of their strategy is also to reuse energy for multiple processes. "The boiler might be fired up, for example, and then we take that heat and reuse it in other areas that need heat," he explains. Also, Karbon is working with carbon capture company Air Capture LLC to channel atmospheric CO2 for carbonating their beers.
Tyson says Karbon is also partnering with brands like Tree Canada to offset some of their emissions. Wherever possible, however, Karbon is seeking solutions that allow them to minimize their carbon footprint at the source. "That's the difference between us and other companies who are trying to go carbon-neutral or carbon-negative," he says. "They're planning to plant a forest, which is good, but we're asking 'is there a better way as opposed to just immediately defaulting to a carbon credit?'"
Karbon's dedication to sustainable production extends to their packaging, all of which can be returned to the Beer Store for recycling. "Whenever we're deciding to do option A or option B, we say: 'which is the most eco-friendly option?'" says Tyson.
Karbon's first batch of brews, which are set to be released in the coming months, are easy-drinking and feature names that pay homage to the brewery's values. Their Helios German-style lager, for example, takes its name from the Greek word for the sun as a nod to solar-powered technologies. Similarly, the JEDI IPA is an acronym for "justice, equity, diversity inclusion," another core aspect of the brewery's mandate.
Tyson says Karbon is consulting with the organization Beer Diversity to address how they can best amplify the voices of underrepresented communities through their work. "It made sense to intersect both these issues. We can't necessarily just care about the planet; we also have to care about the people on the planet," he says.
The initiatives Karbon has launched over the past year are small steps on the journey towards their ultimate carbon-negative goal. Over the next few years, Tyson says Karbon hopes to construct its own brewing facility, which will see the team building their own equipment so they can "re-engineer how the brewing process works," as he describes it.
Hitting their carbon-negative goal will also involve examining the production processes of their suppliers, such as the farms in Wolfe Island and Collingwood's Clear Valley where they currently source their hops. "To get truly carbon negative, it has to include all of your suppliers; everything that comes up the food chain and down the food chain," says Tyson.
Over the long-term, Tyson says Karbon aims to pave the way for other breweries to adopt more sustainable production processes. "Some of the solutions we've been finding are actually fairly easy and aren't that much more expensive," he says. "There is a business case to be made for all breweries to switch. If we make our facility the way we want to, we'll be using less water, fewer utilities, less raw materials—and that actually saves us money as a brewery."
Tyson believes their mission now is to convince consumers that green brewing matters. "The plan is to start with the consumer and convince the consumer that it's a good idea to care about this," he says, "and then put the pressure on the industry to change and be there to support them through that change. Let's get beers in people's hands, let's get people talking about it and having a good time, and start to bring some of these issues to the forefront of the conversation."
To learn more, please visit Karbon Brewing Co.