etee stands for "Everything Touches Everything Else," says Steve Reble, who is the CEO and founder of Canadian Sustainable company etee. When I ask Reble how he would describe his company to a Canadian who is a beginner in sustainability and knowledge of the company, he says, "Our products are only sold in US dollars. Eighty per cent of our customers are from the US. We are not entirely aware of how our products are perceived in Canada yet, but there are more Canadians purchasing products from us now. A big part of why the US is our biggest market right now is because California is a huge state that has major urban areas. However, Toronto is our number one city." Etee is becoming more local and more global—being an internet e-commerce company, the customer reach is potentially worldwide.
etee's single mission is a plastic-free world for everyone.
According to Reble: "I think at the core I would say I've always been an outdoor person, gone on canoe trips, white water kayaking, etc. Anytime you go into the backcountry, you are going to be around plastic. I would do trips to the Arctic and my only way to get rid of plastic is to burn it. I remember being in university a lot of people's solution to sustainability was to go political, be activists, etc. What interested me was consumer behaviour. If you could attack that issue right at its core where people were making daily changes and a massive impact.
"In the past, I was doing music and touring with a band and loved the big innovation. I've always been excited by big ideas and change, but shitty in science. When I was in grade 7, my teacher did two classes within the year, and in one read The Lorax. He taught us that my 90s generation's battle in the future would be with the environment/climate battles, whereas in the 60s his generation was focused on civil rights. It always stuck with me. Seeing both in my personal life when I was white water kayaking, there was so much plastic in the water, plastic all in the trees. My wife was pregnant with [our] second child, I was not super satisfied with my career and didn't want to work for someone else. I liked going out and tackling a massive problem. It's funny because I read that the first person to explore Everest didn't know anything about mountaineering and was said to have lots of local support.
"I'm not a chemist or manufacturer, but having a vision and dream and surrounding yourself with people who understand is important to me. People start to come around about my ideas once they see online support for possible future products. When we first launched Etee, if I told our chemist before the internet reach and support, they would say it's not going to work. I took a risk and in taking that, these other people came on board. I put up a concept Instagram post and had 124,000 views. The real foundation of Etee is 'The more you grow.' We don't expect perfection, we are just trying to create ideas. If it doesn't work, it doesn't work.
"There are two ways to look at it. We want to make a real change. [OR] we're doing something others have done. One of our products is a toothpaste packaged with a toothbrush made of bamboo with a removable head. It doesn't require a major change. If you are just getting started, that is no different. Toothpaste, lip balm, start with something like that. We are now working on a dish soap, and are the first company to do so petroleum-free. The concentrate and general sales pitch is 'dish soap is 90 per cent water.' We took 'pasty' concentrate and put it in a wax tube, with natural waxes & tree resins. I don't know how massive it will be in the long term but we have figured out a way to package without plastic or petroleum. We do have other products out there that are trying to create less of a footprint (i.e., Tide Pods,) but we don't know if tide pods are 100 per cent biodegradable. What happens when everyone else starts to use it on a mass level? It's a petrochemical.
The one thing about our dish pod is the packaging is as natural as the ingredients inside. There are still so many organic products packaged in plastic. Our philosophy is 'from the earth and back to the earth.' Which Ties into our [tagline]—Everything Touches Everything Else."
Look for the etee ethos in messages on their products i.e. "your toothbrush, our planet." It's all about bringing awareness to our daily actions.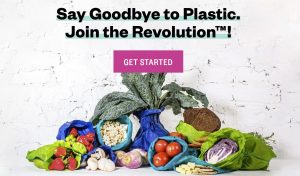 Read more or order products at etee.com.