By: Signe Langford
Chefs and restaurateurs are discovering that being green is good for the planet and the bottom line.
Spring is a hopeful time of new life – lush and green – emerging from greyness, and it's a perfect time to consider sustainability. What is it, how can it be achieved, but also, at what cost? What might need to be sacrificed to attain it, and what are we – as businesspeople, consumers, and diners – willing to give up? It's a question asked by many who have grown accustomed to uninterrupted access to exotic ingredients, out of season produce and extravagance. 
Some choices are already made for us by vendors. For example, the West Coast scallop fishery has seen a drop in catch due to ocean acidification, and crop yields are shrinking as pollinator numbers plummet and growing seasons become more erratic and unpredictable. Conscientious chefs now consider the carbon footprint of Chilean-grown asparagus in January, and some have taken certain species of fish off their menus completely. Like it or not, climate change is changing how we dine and how chefs cook.
IT'S ALL CONNECTED
It might be hard to swallow, but what's on the menu in Toronto can have severe implications for the environment and folks living on the other side of the world, in the next town, or even just down the road. For example, some models of salmon farming can be problematic. Salmon are carnivores, so farmers feed them other fish that have been scooped up by the millions from the waters off Africa, thereby depriving the local fisherfolk of their traditional diet and way of life. 
Food waste is another serious issue. In Canada alone, over 35 tons of food is wasted, and over 190 million tons of greenhouse gases generated by all that rotting food speeds up global warming. And these are just two of a multitude of problems. Menus are minefields, but restaurateurs, chefs, and diners are learning how to navigate this tricky territory.
FOOD IS POLITICAL 
What's on our plate matters. And just as there are always some who arrive late to the party, the food business also boasts some visionaries – early adopters of a more sustainable, lower-impact model. Since 2013, Jason Bangerter, Executive Chef of Relais & Châteaux member Langdon Hall Country House Hotel and Spa, has cooked with sustainability top of mind. On this verdant 75-acre property in Cambridge, Ontario, his team of gardeners provide the kitchen with fruits, vegetables, and edible flowers. Bangerter and his kitchen brigade even make use of the miles of woodland hiking trails for foraging. The produce they don't grow themselves they buy from local farms. 
Although no-food-waste parents raised Bangerter, it wasn't something that came up in culinary school nor in the first European and North American kitchens he apprenticed in. "It wasn't normal practice to be concerned about sustainability," he explains. "It wasn't until years later that I made the realization that local and sustainable was the key to better products, community relations, and support, and that it was better for the environment." 
Bangerter, who was one of the first chefs in Toronto to become 100% Ocean Wise certified, says diners ate up his new ethos. "There has never been pushback from diners. There may have been some guests confused by unusual and unfamiliar ingredients but never pushback. Nowadays, guests are more informed and practice the same values at home. They ask us what we do and why we do it." 
IT'S MORE THAN JUST FOOD
Bottled water is ubiquitous in foodservice, from take-out joints to fine dining, between sourcing, bottling, shipping, and waste management. It's all very costly for the planet. Langdon Hall no longer purchases bottled water for table service. Instead, they've tapped into their escarpment well for bottling in reusable glass onsite. 
For Bangerter, sustainability doesn't end at the kitchen door "We're working on removing all single-use plastics from the property," he explains. And for a 60-room hotel with multiple food outlets and event spaces, it's a massive project, but they are committed to positive, impactful, ethical change.
The foodservice industry is a massive consumer of energy for cooking, kitchen ventilation, chilling, lighting, heating, and air conditioning. Restaurants use vast amounts of natural gas and electricity, but there are green solutions and green rewards too. Even making a few seemingly small changes can add up to savings. And, the writing is on the wall. The greening of all industries will eventually be legislated, so why not take the lead, do the right thing, and cash in on a marketing advantage? 
Laura Hawkings is Board President at LEAF (Leaders in Environmentally Accountable Foodservice). It's her job to help restauranteurs operate as greenly and cleanly as possible, but the most common stumbling block is worry about the cost. "The biggest misconception is that going green is too costly for most businesses," she says. "However, studies have shown that for every dollar invested in sustainable practices, you get a greater return on investment over time." Hawkings says there are several low- or no-cost things businesses can do that save them money from day one, but sadly the strategies to reduce environmental footprints remain poorly understood.
As public awareness grows, restaurants that implement sustainable practices will benefit from improved customer loyalty, with repeat visits from diners who are willing to spend a little more at greener establishments. At the Fairmont Royal York Hotel in downtown Toronto, Executive Chef, JW Foster, sends out approximately one million plates per year, and he does it as sustainably as possible while minding the bottom line. 
"For over 90 years, the hotel has fostered great relationships with suppliers and vendors, ensuring smart purchasing decisions to cut hotel food waste," says Foster. "We store food in reusable containers whenever possible, and initiatives such as offering take-out biodegradable containers and providing rice vs. paper straws, upon request, allow us to showcase our story to guests." 
In the same spirit as Chef Bangerter at Langdon Hall, Chef Foster knows that ensuring access to the country's highest-quality food and beverage products allows them to offer the most responsibility produced options for our guests. "We purchase local, in-season product whenever possible to reduce pollution and help protect overfishing of the oceans," he explains, while noting that they are committed to being 100% Ocean Wise in the next year. 
Even though Chef Foster's kitchens are smack dab in the center of Canada's busiest metropolis, he and his brigade tend a raised-bed garden on the 14th-floor rooftop, complete with beehives, co-managed by an independent beekeeper, Melanie Coats. In 2008, the hotel was recognized as the first hotel in the world to introduce a rooftop apiary. Today, there are seven hives abuzz with 350,000 honey bees, producing an average of 450 lbs of award-winning honey each year, which ends up on the menu and in the hotel's house ale.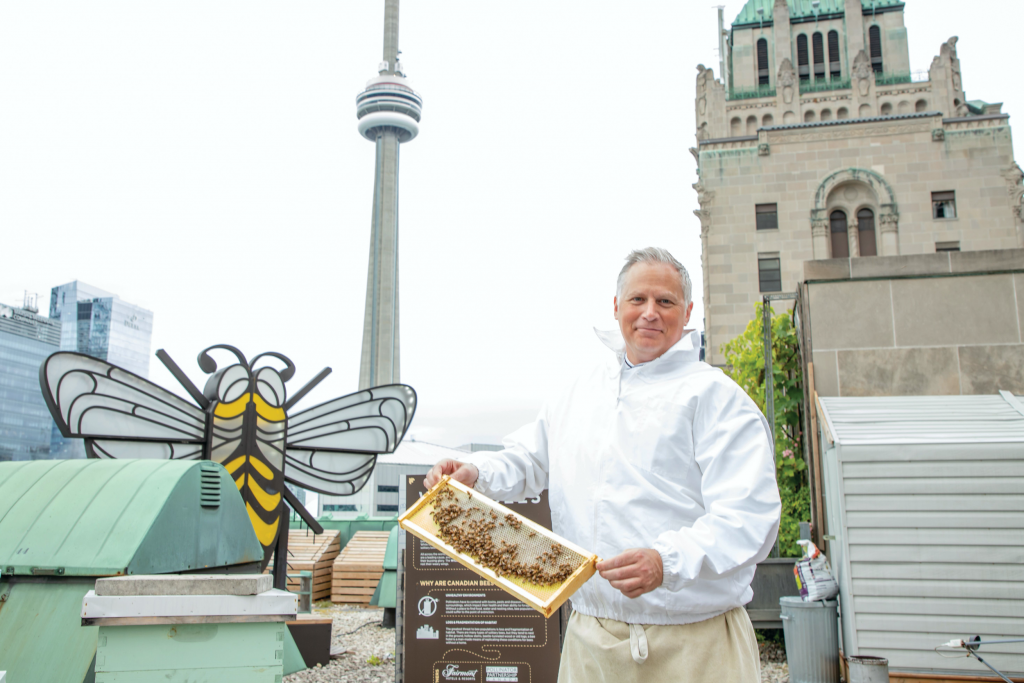 Along with a wide variety of veggies, herbs, and berries, the bountiful garden is home to three apple trees, all pollinated by the busy bees, and used in the kitchen of Reign in this ideal and sustainable system. "Fairmont Royal York believes that every action matters," says Foster. "We know it's important for our guests to know where their food comes from. Bees play a big role in human health and survival – one of every three bites of food we eat depends on them. By the hotel keeping honeybee hives on the roof, and growing food close to where we prepare and serve it, it allows us to reduce our environmental impact on the planet." 
But ask a chef, is all this extra effort worth it? According to Chef Bangerter, at Langdon Hall, it's proven to be good for business. "It's never a sacrifice to do things sustainably; it's actually the opposite," he says. "It can be challenging, but if you're open-minded and work at building relationships, it works out wonderfully in the end."
10 Tips for Sustainably Delicious Dining – at Home and on the Town
Look for menus that carry the Ocean Wise logo indicating sustainable seafood. Order and cook with local and in-season ingredients.

Eat less meat, but when you do, splurge on the good stuff: local, small farm, grass-fed.

Get to know the farmers and producers who feed you and supply the restaurants you dine at. Some menus will include them and what they grow.

Shop more often at your local farmers' market.

Look at the labels when you shop. If it contains palm oil, put it back on the shelf.

When buying seafood, think local, lake fish, and locally inland tank farmed.

When buying coffee, look for these keywords: shade-grown and bird-friendly.

Waste less! Eat the leftovers and compost the rest.

Plant a veggie garden. It's good for you – body and soul – and the planet!

Consume less bottled water, but when you do, buy it in glass bottles that can be reused or recycled.


Republished, with the permission of Marquee Magazine 
https://www.marqueemagazine.ca/digital/green-is-the-new-black/