This is a story about the Mauritian people—at home and abroad—against the larger backdrop of a global pandemic, suddenly faced with an unforeseen ecological and economic cataclysm. How this diverse, cooperative society with its sustainable way of life has mounted an effective citizen effort to save their natural world provides an extraordinary tale of human ingenuity in the face of disaster.
On July 25, 2020, the Japanese bulk carrier MV Wakashio ran aground on a coral reef off the coast of Mauritius, releasing tonnes of fuel oil before it broke in two, causing environmental, social and economic crises for the island nation.
Why the ship was in Mauritian waters in the first place remains a mystery, it was not meant to be.
Within a few weeks of the accident, France would be the first country to support Mauritius with equipment, personnel and anti-pollution experts to assist in the clean-up operations. On 8 August 2020, France deployed further resources and personnel to tow and sink the bulk of the carrier in the open ocean. France says it remains alert to marine pollution which could also reach the coasts of Reunion Island.
But clean-up efforts are far from over. Some experts are suggesting the environmental damage could require a decade of clean-up. In a situation like this—an island nation dependent on fishing, tourism and its protected, ecologically sensitive environment is harmed in an international incident, through no action of its own—who is responsible for dealing with the effects? The red tape surrounding the shipwreck resulted in a significantly delayed official response.
Mauritians weren't going to wait for official answers…
Mauritians in Canada
Within hours of the disaster, the people of Mauritius were sharing the initial reports and images of the grounded ship across social media, well before mainstream news of the accident surfaced. Then pleas began showing up in news feeds from Mauritians living, studying and working in Canada who are trying to organize help from abroad.
AYOOB CALLACHUND
Ayoob Callachund was born in Mauritius. He dreams of becoming a pilot. He came to Canada in 2016 to study at a flight school in the Greater Toronto Area (GTA). The pandemic has indefinitely interrupted Callachund's studies, but he can't go home to visit his family either—COVID-19 was quickly controlled in Mauritius, but despite being a largely tourism-driven economy all commercial flights to Mauritius have been halted.
So, when the news of the grounded ship and fuel oil spill came from home, Callachund says he felt "a lot of emotions that upset him greatly." He speaks of the confidence that people felt in the government because of its swift action on COVID, yet people were worried and frustrated that for days after the ship began leaking vast amounts of fuel oil in Mauritian waters, no action was being taken.
The bulk carrier ran aground at Pointe d'Esny on the east coast of Mauritius. Callachund says this is a protected area, a preserve with ancient coral reefs. "Some of them, they take like a hundred years to like grow one centimetre," says Callachund. The reefs are home to creatures found only there. While small vessels are normally permitted in the area, fishing in this area is not permitted.
But Mauritians are an island of fishers, too, and as the oil spill spreads beyond the protected reefs further into the Indian Ocean, the areas that are normally trawled by fishers are also contaminated. This vital food source is indeterminately compromised.
"So right now all this endangered fish, these plants, animals, insects, birds that are endemic to Mauritius are [affected]. And…that's where the ship is grounded and spilling the oil," Callachund explains.
He says that he worries about the island's economy, too—its tourism, its restaurants; fish is a staple protein, many Mauritians don't eat any other kind of meat. "Right now this is all spoiled, he says. And according to experts, it will take around five years [just to start] the recovery, which is why Callachund says he, his family, his friends and others at home are working together to save the area themselves. Feeling somewhat helpless here in Canada, Callachund has sent money home to help fund the citizen-led clean-up. He receives updates from his family regularly and his love and concern for animals and his country has left him grieving.
KIISHAN SOWAMBER
Kiishan Sowamber came to Canada in August 2013 as a student in business accounting. He and his wife became settled and started working in Canada and today Sowamber works for Sysco food services in credit. His brother is here too and he is following in Sowamber's footsteps. They've built a network here of friends and fellow ex-pats—in 2013, Sowamber and his friend Dia Bundhoo built an online community, Mauritians in Canada, that now has 3,500 members across the country. In Sowamber's words, the purpose of the page is "to post things that remind them of home."
The page also receives and re-posts bulletins of interest to Mauritians. Sowamber describes the first scenes of the fuel oil spill he saw coming through their community page and on his Facebook—photographs of the massive carrier listing and threatening to break apart on the endangered reefs, an oil slick oozing across their waters, onto their beaches and sand, darkening the shallow impossibly turquoise waters of Mauritius. He saw images of ordinary Mauritians wearing homemade protective gear, gloves, breathing masks or surgical masks immersed to their waists, their armpits, their faces in the liquid trying to scoop it out, filter it, soaking it up using makeshift sponge-like materials, their boats, textiles and their hair, which has proven to be highly absorbent.
Sowamber's family is from the North but he says people from all over the country have descended on the beaches of the South to volunteer, including his relatives.
Mauritius is critically wounded, particularly because it is a tourism-driven economy. Despite escaping the ravages of a global pandemic, Mauritius is now facing an environmental disaster that will likely affect its economy and its inhabitants for many years into the future.
Lamain dans Lamain is a famous song in Mauritius, in the tradition of Sega, which is the fusion of Seggae and Bhojpuri sounds. A further testament to the sustainable, community-centric way of life, the song's title translates to "Hand in Hand," and this, Sowamber says, is the essence of being Mauritian.
Mauritians embrace diversity as a source of strength and pride. They possess a seemingly de facto ability to mobilize and work together, making it that much easier to integrate help from outside organizations, non-profits, and countries like France into the citizen clean-up efforts already underway. This solidarity in action may make all the difference in saving Mauritius.
"This is our ocean," says Sowamber.
RUSSELL AUCKBARAULLEE
Before I had heard the news of the shipwreck, I already knew a little about Mauritius thanks to a colleague in the Canadian food industry. Chef Russell Auckbaraullee was born in Toronto of Mauritian parents. He has dual citizenship in Canada and Mauritius and he has spent much of his life travelling to and from both countries. He is vocal and involved in the Canadian food industry as a proud chef, culinary educator; Canadian and Mauritian.
I reached out to Auckbaraullee for a chat and some background information. What I got was a taste of some real Mauritian street food and an education. Auckbaraullee is part of a small, tight-knit community of Mauritians in Canada, most of whom are located in Quebec and Toronto. He estimates there are about 25,000 Mauritians in North American altogether. And they are deeply connected to the everyday life of their friends and families at home.
Auckbaraullee says he is fortunate to have built the connections he has but he attributes this to the unity at the heart of the Mauritian way of life. He is hugely successful but so humble you'd never know it—until you ask him about his work, then he becomes fiery and his passion belies his humility.
Auckbaraullee is a big deal in Canada, but he's an even bigger deal in Mauritius. He cooks for dignitaries including the prime minister of Mauritius as well as politicians and celebrities in Canada, owns and runs a successful catering business Penthouse Catering; he teaches culinary courses for Canadians of all levels of skill, he is a television personality at Starfoodies TV. On top of all that, he is the head chef and ambassador for several food festivals and initiatives in Canada and Mauritius.
But for the purposes of this story, Auckbaraullee is simply a Mauritian. The news of the shipwreck and fuel oil spill—heartbreaking photos of the subsequent damage coming from his relatives at home—was an immediate call to action for Auckbaraullee. He is a celebrity in his own right and he is using whatever means he can to get aid to Mauritians, including speaking with me.
Auckbaraullee made himself available for an in-person chat within a day of reaching out to him. We met up on a beautiful summer evening near his home in a protected park on Lake Ontario's shores. He loves the park and its waters, the boats and the shoreline, the protected natural area—it reminds him of Mauritius.
Auckbaraullee gives me a taste not only of what it means to be Mauritian but also a literal taste of traditional street food that you might find hawked on the streets of Port Louis—he lays out a spread of gateaux piments (falafel-like fried balls of yellow split pea flour, spice and chillies served with a piquant but sweet sauce, followed by a fusiony apple pie samosa). I'm looking at the waters of Lake Ontario, sitting beneath a lush willow tree, eating Mauritian street food and listening to Auckbaraullee tell me about the people at home. For a moment I'm experiencing a little bit of the real Mauritius. This is one of Auckbaraullee's talents—the ability to enthrall diners, students, colleagues, acquaintances and friends alike. I tell him so and he responds by saying this is not his gift alone, but the driving spirit of all Mauritians.
A monumental, courageous, citizen-driven clean-up effort is underway.
Rather than talk about himself any longer, Auckbaraullee wants to tell me about the clean-up efforts being carried out by people at home. Immediately following the accident, the people of Mauritius rapidly mobilized. Their beaches, reefs and surrounding waters already sullied by the black, sticky, noxious leaked fuel oil; the unique biodiversity of the island's birds, fish and marine life threatened—Mauritians began organizing a grassroots clean-up effort that can only be described as an engineering and sociological marvel.
Auckbaraullee tells me about vast quantities of human hair being donated and collected by Mauritians. Salons are donating hair, people are cutting their own hair for the cause. Along with the fibrous pulp of sugar cane called "bagasse," the hair and bagasse are stuffed into green mesh tubes which are sewn closed by hand in an assembly line of volunteers—young, old, men, women—empty plastic bottles are then tied on as buoys. The tubes are then taken out into the affected waters to absorb the fuel oil before it can spread further, then removed and replaced with new tubes.
Since the first days following the accident, the beaches nearest the disaster have become muster points where the infrastructure of disaster management has been put in place by Mauritians and everyone is playing their part. Any kind of material that can be used is being donated. The fuel oil is highly toxic, breathing apparatuses are required as well as protective gear over the skin. Despite this, Mauritians are wading into the waters or using their boats to contribute to the efforts without hesitation.
How is it that Mauritians have managed to pull this off with so little outside support? Auckbaraullee again touts the unity at the heart of Mauritian society. He is matter-of-fact because this is how he too was raised the Mauritian way. Referring to the many cultures that make up the country's population, he states that Mauritians work together. Period.  No matter which cultural heritage you might belong to as a Mauritian: "Chinese new year? We celebrate and enjoy it like a national holiday. If you're Muslim we'll all celebrate your holiday. No problem. We're celebrating it as a national holiday. You're Hindu. Okay. So, alright. National holiday. Okay. Oh, it's Christmas. Okay. National holiday," Auckbaraullee says this kind of inclusivity is a beloved facet of Mauritian life. It is respect, it is a sense of belonging no matter what. "Yeah, we are a part of it," says Auckbaraullee. Inclusivity is taught in the Mauritian school system, inclusivity finds its ways into centres of worship and religious celebrations. Auckbaraullee says that when you go to a church in Mauritius, you're probably going to hear about friendship. Go to a Mandir and you're going to hear it in Hindi. A Buddhist temple, you'll hear it in Mandarin. A Masjid, you'll hear about friendship and unity from the Imam. Auckbaraullee thinks this ability to co-exist and respect fellow human beings is uniquely Mauritius. That Mauritians are demonstrating this cooperative spirit under the weight of such adversity is a lesson for the taking.
Auckbaraullee talks about how this is the truest type of sustainability, cooperation. It has the potential to infuse and drive success in every part of a society, from its governments to its institutions, to everyday citizens. It has to infuse our thoughts, ideas, innovations and actions as a global society.
The rest of the world can learn a great deal as we see the people of Mauritius working together to save the environment and their economy. In the meantime, Auckbaraullee is constantly in touch with dignitaries, friends and family at home to provide aid.
Auckbaraullee was supposed to be in Mauritius when the ship ran aground. Due to COVID, he has been grounded in Canada like all of us. But he is doing all that he can to help until he can once again travel there himself.
If you would like to contact Russell Auckbaraullee to offer help, or to learn more about his work, please visit him online at penthousecatering.ca. The recovery efforts continue and will for many years to come.
Help Today
To learn more or provide much-needed donations and assistance to the people of Mauritius, for the purchase of supplies, equipment and all the supports required to maintain a salvage operation of this magnitude, consider the following:
About Mauritius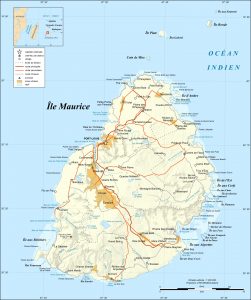 Mauritius is an island nation in the Indian Ocean, located off the eastern coast of Africa. Mauritius lies about 800km east of Madagascar. The islands of Mauritius and Rodrigues form part of the Mascarene Islands, along with nearby Reunion, a French overseas department.
The capital and largest city, Port Louis, is located on Mauritius, where most of the population is concentrated. The country spans 2,040 square kilometres.
The island of Mauritius is volcanic in origin and is almost entirely surrounded by coral reefs.
Mauritius has a mixed developing economy based on manufactured exports, agriculture, tourism, and financial services. Government efforts to diversify the economy after 1980 have been successful, and the island is no longer as completely dependent on sugar production as it was throughout most of its history.
Approximately two-thirds of the population is of Indo-Pakistani origin, about one-fourth of the population is Creole (of mixed French and African descent), and there are people of Chinese and Franco-Mauritian descent.
Mauritians commonly speak two, three, or even more languages: English, Creole, Bhojpuri, French, Hindi, Chinese, Marathi, Tamil, Telugu, and Urdu.
Religious affiliations: Hindu, Christian, Muslim, Buddhist.
Sources:
Wikipedia contributors. Mauritius. Wikipedia, The Free Encyclopedia. August 18, 2020, 21:45 UTC. Available at: https://en.wikipedia.org/w/index.php?title=Mauritius&oldid=973726703. Accessed August 25, 2020.
Encyclopædia Britannica. Contributors Larry Wells Bowman. Mauritius. August 21, 2020. Available at: https://www.britannica.com/place/Mauritius. Accessed August 25, 2020.
Ministry of Overseas France: http://www.outre-mer.gouv.fr/actualites-1
Ministry for Europe and Foreign affairs: https://www.diplomatie.gouv.fr/fr/dossiers-pays/maurice/relations-bilaterales/