On October 6, Goose Lane Editions released Jon Tattrie's latest book, Peace by Chocolate: The Hadhad Family's Remarkable Journey from Syria to Canada. In the ancient city of Damascus, Isam Hadhad made happiness in the form of chocolate until war broke out in Syria. With his chocolate factory flattened by airstrikes, his friends and family arrested and injured, and he and his family trapped as refugees in Lebanon, it seemed that making happiness had come to an end. But his life would change once again, after he and his family emigrated to Canada in 2015 and 2016 and settled in the small town of Antigonish, Nova Scotia. There, Isam began making chocolate again, and Peace by Chocolate was born.
Founder and CEO Tareq Hadhad says, "When we came to Canada a few years ago, we had a dream and mission. A dream to rebuild our lives and a mission to share our story of hope and resilience. There is no greater honour than telling our story to the world in a book by an incredible author."
Since Peace by Chocolate was founded, Tareq Hadhad has spoken at Amnesty International's Human Rights Conference, TEDx events, the World Bank, and the OECD. In 2016, the Hadhad family received international recognition when Canadian Prime Minister Justin Trudeau shared the story of Peace by Chocolate in a speech at the United Nations Leaders' Summit on Refugees. In 2020, Tareq Hadhad became a Canadian citizen. Peace by Chocolate is now sold across Canada by Sobeys Inc. with plans to expand into the US. It is now one of Antigonish's major employers.
Hadhad adds, "While there is so much hate, anxiety and pessimism in the world right now, we hope this book will inspire and lift others, bring communities together with kindness and compassion, and show the best of humanity in the most needed times during crises. It's so relevant with what the world is living through these days."
Peace by Chocolate tells the full story of the Hadhad family: from the devastation of the Syrian civil war, through their life as refugees in Lebanon, to their arrival in Antigonish and the founding of Peace by Chocolate.
Author Jon Tattrie works as a journalist for CBC News in Halifax. He is also written two novels and five books of non-fiction, including Cornwallis: The Violent Birth of Halifax, Daniel Paul: Mi'kmaw Elder, and the bestselling biography, The Hermit of Africville. "It was my honour and delight to tell the true story of Peace by Chocolate and how the Hadhads went from stateless refugees in Lebanon to pillars of the community in Antigonish in just a few years. The Hadhads' remarkable courage and the people of Antigonish's genuine compassion turned a tragedy into a triumph."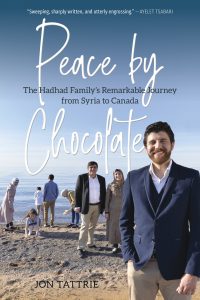 Peace by Chocolate will be available at bookstores and retailers where books are found throughout Canada as well as gooselane.com and peacebychocolate.ca.
Source: Goose Lane Editions