The last year will go down as the year where sweatpants' sales surged, along with the salty, fatty and sweet comfort foods that gave us reprieve from everything that was and is happening. Eating a salad may be good for us, but "I am going to indulge in some kale"—said no one ever.
It's no surprise that when we're bored, lonely and stressed that we turn to comfort food. It's nostalgic and brings back memories of happier times—times of celebration, nurturing and togetherness.
For me, it's spam and instant noodles or what I have affectionately dubbed the "Papa Tsui special." It's what dad would cook whenever mom wasn't home and he was left with the dilemma of feeding two ravenous little girls. Or the times when we'd have sleepovers, and the kids would sneak into the kitchen in search of junk food while the adults were fast asleep. When there was none to be found we created this sinister midnight snack that involved crushing up instant noodles and shaking it up with the seasoning packets. It was the closest thing to a hangover in the form of food because the next morning we always woke up parched from the sodium overdose but slightly proud that we had done something naughty without getting caught! And I still find myself making this salad that is sort of a Waldorf and potato salad hybrid with Miracle Whip, diced apples, cucumbers, carrots, potatoes and boiled eggs—a staple at family BBQs from times past.
A quick search in any third-party delivery app makes satisfying cravings even easier. Data released by third-party delivery apps such as UberEats, Skip the Dishes and DoorDash have reported that pizza, hamburgers and fried chicken rank in the top 10 foods in 2020. If 2020 were a food fashion trend, comfort food would be Chanel. Even fine dining restaurants were scrambling to revamp their menu offerings. After all, a pandemic was not the time for luxury, especially with the loss of hundreds of thousands of Canadian jobs looming.
Since then, restaurateurs and chefs alike have been dishing up familiar favourites with their own unique spin.
Ryan Campbell, the chef/owner of Il Covo had already started moving away from fine dining to create more accessible food even before the pandemic started. "Comfort food is what we've been going for which has carried us through the pandemic," he says. He didn't stop there.
In the summer of 2020, Campbell was feeling nostalgic and decided to make a peanut butter pie—a sort of cousin to pecan pie. It was something that his mom, Gertie would bake for him as a child. The astounding number of comments he received on Instagram sparked an idea. With some help from friend and pastry chef Domenico Giammarella (Alo), they arrived at a heavenly combination of peanut butter mousse, and peanut caramel between a double layer of mascarpone—a zhuzhed up, chef-ified version of his mom's original.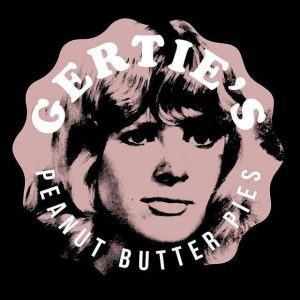 On December 5, 2020, coincidentally also Gertie's birthday, peanut butter pie heaven arrived in Toronto. The brand's mascot and logo are a stylized photo of Campbell's mom when she was sixteen, designed by his girlfriend Sara Steep. Since launching, the brand has garnered somewhat of a cult following and is currently available in over 30 retailers across Toronto.  It's definitely on a growth trajectory as Campbell is currently talking to a co-packing facility to scale production and distributors that will eventually take Gertie's across Canada and South of the border.
Campbell has also launched Radio Cocktails with Il Covo bartender Luca Cesaretti, who hails from Rome's most famous speakeasy, Jerry Thomas. Cesaretti has created bespoke and artisanal cocktail kits so that you can enjoy cocktail hour Don Draper style. Much more sophisticated than the rye and gingers from my clubbing days. Campbell's upcoming venture, Mort's will be a love letter to "all things mortadella." Step aside baloney!
Another delicious venture that has Italian roots but has been given a Canadian spin by way of Detroit is Mel's Real Good, the brainchild of Matthew Sullivan (Real Sports, MLSE). About three years ago, the culinary team at Maple Leaf Sports and Entertainment wanted to add pizza to their menu and thus began the obsession which led to a pan-North American pizza crawl with stops in Chicago, Detroit, New York and Windsor. "I'm 80 per cent mozzarella," says Sullivan about the number of pies he's consumed in the quest to make the perfect pizza…I suppose we all have to suffer for our art. 
Back in Toronto, Sullivan "was looking to kind of see what other Toronto places were doing, and not avoid what they were doing but to do something unique," he says of the Neapolitan-centric pizza spots in the city. The final product is reminiscent of the 241 Pizza slices Sullivan grew up eating, before the era of Pizza Pizza and Domino's. Sullivan describes it as sort of a thin-crust Detroit-style pizza with a Canadian spin.
Canada has fierce regional pride when it comes to pizza. We are the land of the controversial Hawaiian pizza, which is aptly dubbed "The Satellite" at Mel's—a nod to the Chatham restaurant where it originated. And if you've ever been to Windsor, talking about pizza will get you into debates as heated as those around politics or religion.
In addition to its core menu of pizzas that pay homage to the various spots that Sullivan visited, there are some secret pizzas and special collabs that are unlocked with a secret password through bread crumbs they leave on their social media feed. A recent post instructed diners to order the Pepperoni Pizza with the password "Kelly Clarkson," for a free upgrade.
Moving from the Mediterranean over to the Iberian Peninsula, executive chef Julie Marteleira (Leña) is introducing traditional family recipes from her native Portugal with Petisco Kitchen. The core menu combines Marteleira's culinary training and her mom's authenticity. Weekly features have included duck and chorizo rice and often sell-out as they are available in limited quantities.
Marteleira grew up watching her mom cook in the family restaurant and what started as a way to stay active and busy (as Leña remains closed throughout the lockdown) accidentally became a flourishing family business with Marteleira and her mom in the kitchen and sister Jenny (an EA in the tech space) overseeing marketing and administration.
Some of the more popular items—beef croquettes, shrimp patties and cod fritters, are dishes they'd always done for friends and family but have now made their way to Toronto's Cheese Boutique along with their Creamy Cod Bake as a pilot to eventual wholesale and expansion.
"It's been so nice to spend this time with my family in a different capacity, not just hanging out or going for lunch or coming over for dinner. The capacity of actually working together and everyone finding their own role," says Marteleira on how their unique skills have helped support the various business functions in their new family venture.
On what it means to feed people and on the return of restaurant dining, Marteleira says, "A restaurant isn't just about going to eat a meal, it's going out with your friends, hanging out even by yourself sitting at a bar and taking in that atmosphere, the service you get and what that meal made you feel. As cheesy as that sounds, that's what food is," she adds.
I, for one, am happy that chefs have drawn from their own nostalgia and food memories to satisfy our cravings. And as long as swimsuit season is cancelled for 2021, I'm okay with eating my emotions. As of right now, I'm about 80 per cent potato chips.