"I decided it wouldn't just be a cookbook. It would be a story."
Four years of love went into the creation of chef Shane Chartrand's cookbook, but the journey goes farther back than that. In fact, it goes all the way back to Chartrand's childhood acreage, where he could be found weeding the big garden on the weekend, hunting and fishing with his father, digging out a root cellar for his family's beets and potatoes.
Tawâw is a celebration of Indigenous cooking, and further, an exploration of Chartrand's life, plotting his relationship with food and his culture.
"I decided it wouldn't just be a cookbook," says Chartrand. "It would be a story. My life is in that book."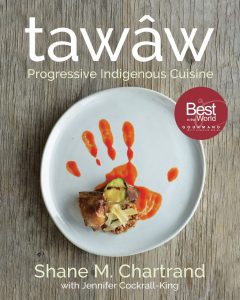 When he was first approached to write a cookbook, Chartrand says he was excited at the idea, but he didn't know where to start. He partnered with Jennifer Cockrall-King, who helped channel his enthusiasm into a cohesive project: a collection of progressive Indigenous recipes woven through and around Chartrand's own story.
"People think progressive means fast-forward, high-end, but that's not the way I look at that word," says Chartrand. "To me, it means ever-changing. Food is ever-changing."
Chartrand's relationship with food, and the food of his indigenous heritage, in particular, has also evolved. It took working in a Lebanese restaurant for his eyes to be opened to the connection between food, culture, and family.
"That piece was always there, but I ignored it," he says. "I didn't take it seriously. The Lebanese restaurant taught me the value of family. At the end of every night, the restaurant had a family dinner. That was where I found I had to pay a little more attention to my own culture and wrap that around what community means."
"Farm to fork is not new. It's always been Indigenous."
Part of that meant going back to his roots, to that big garden of his childhood, to the ideas passed along about food and where it comes from.
"Farm-to-fork, nose-to-tail, ocean-to-plate…these stupid marketing ploys just to fill your restaurant up," says Chartrand. "Farm to fork is not new. It's always been Indigenous and it's always been a thing. When I grew up, that's how we lived our lives. After a while, when I started thinking about sustainability, I thought, this is just a normal way of life."
Chartrand started working in restaurants when he was sixteen. He remembers discovering the distance between the farm and the kitchen that exists in most modern restaurants.
"I was naive, I was young, and I didn't realize that food didn't come from farms," he says. "I thought all the food that got delivered was from farms. I just assumed. When I started being a chef and doing my own orders, I was like, 'Holy hell, where does this all come from?' Brazil, Thailand, California coast. 'I'm getting shrimp from Thailand? Where? What's it fed?' Those were my questions."
This flew in the face of the lessons he had learned and the way he had grown up.
"I'm so stuck with it today," he says. "It frustrates me. Eventually, my world will change, because I can't contribute to this anymore unless I open my own restaurant."
Chartrand imagines working in radio, exploring food and wine and the issues that are intertwined with the ways we eat.
As for Tawâw, it's a place where the inherent sustainability of Indigenous cooking and fresh, modern recipes come together.
"I would certainly like people to be extremely inspired by the book," says Chartrand, "but that's obvious. I want people to think and acknowledge and understand things they've never heard about. Indigenous people and non-indigenous people–I want them both to come out thinking and smiling. The book is my inspiration, my world, my dream, my life."