"We're all regular weirdos." – Bif Naked
Forget labels, forget the rules, forget about being a card-carrying vegan; do no harm and think accessibility, justice and representation for all. 
Indie-Canadian singer-songwriter, Platinum-selling recording artist, food and lifestyle disruptor, humanitarian, and motivational speaker—Bif Naked is loud, strong, and hilarious. She's a powerhouse who has been a voice for change and sustainability in the alternative music scene for over 20 years; a voice for women, men, and animals across the globe. She has overcome two very public health battles and she wants us to know that being healthy at our core, as human beings and as business entities, is achievable for all.
Q. Why did you adopt a raw vegan diet? What challenges has this diet presented, if any?
A: I've been a vegan since 1996…and the only vegan in my personal life and through touring. It's been my religion and philosophy. It had nothing to do with activism originally, and everything to do with my personal beliefs. It was at first by accident, it was all I ate. When we were touring in Eastern Europe, I starved! They would have big sandwiches, boiled meats, etc. I loved bananas & tomatoes. I was not into dressings either. And while on the run, I either ate oranges and apples for three days or zucchinis if that's all I could find.
Then someone told me about two years in that I was a raw vegan. I responded saying that was a terrible thing to say… Since then, it's taken on quite a life of its own. With the concept and ideology behind it, raw food veganism is very different. I eat that way because it felt good in my body. I was always travelling, so it was impossible because there weren't any products around. But when I was diagnosed with breast cancer, my body wanted rice and cooked yams. I always listen to my body. But immediately when you eat rice and cooked yams, they take away your raw vegan card.
I never look back. I think our bodies go through different changes and as I got older and my body was aging, especially after breast cancer, I eat a little rice and coffee in the morning, which is not a raw food. However, I will always be a vegan. Your body knows what it needs. With raw food veganism, it became such a trend and movement, that I felt I couldn't sit around talking about food equity and going to these expensive raw food vegan restaurants. It became a very elitist and bullshit thing. I don't want to be associated with that and those expensive restaurants. That's not what it's about for me. Which is why I don't usually make a reference to raw food veganism because it carries with it the weight of being really elitist. It's so opposite of what I believe.
Doing things like the welfare food challenge in Vancouver, where you try to be conscious because if you're lucky you would have 7 bucks or less a day to eat. Anyone who is a raw food vegan would find it difficult to eat, trying to find teriyaki Seiten or cashew cheeses. You can't afford that if you're a normal family. I never try to promote or buy things like that as much as I can. The healthy things I can promote with a platform, I can encourage people to do what feels right for them and try to be conscious of what it looks like for other people. You can go to any farmers market, and you can buy a carrot, spinach, a tomato, etc. cut it up, and you're done. You supported your local farmers. There's a lot of simple eating that can be done.
You can go on lots of different websites. You don't need dressings on things. To create a big vegan dressing you don't need 20 dollars' worth of cashews that you blend. It's not necessary. If you like it and you can afford that, that's fantastic. But doing exercises like the welfare food challenges are important because they make us mindful. Even talking about it spreads awareness about food equity and food politics. If you only have 7 dollars a day, go buy one banana, one cucumber, one zucchini, you're done! You can buy a can of chickpeas that will last you for a whole week, but again, they'll take your raw vegan food card away. You lose your badge of honour. I think life should be more simple than that. Just do it for yourself. And of course for special occasions, what a treat it is to go to these raw restaurants or one Saturday every six months, to go to the salad bar at Whole Foods.
Always be aware that there are people who steal food because they have to. The best thing I can do is to be super conscious about what people can and can't afford. I find a lot of people get super boastful about their lifestyle, it gets a little "goopy." I didn't wanna get lumped in with the cis white heteronormative lifestyles that women can have. I think how I can bring my politics and my philosophy into my entire life.
Q. What are some of the underlying philosophies guiding your veganism?
A: It's definitely from the principles of Ahimsa, and non-harming… I relied heavily on books. This was before I had a computer. I didn't have a computer until 2006. We were poor band kids. When I was young and impressionable and in bands, there were a lot of Krishna-Core bands that influenced me like Shelter, Jon Joseph, etc. their whole "Hare Krishna" bringing into punk rock music really affected me. Even now, they are still massive influences for me. Jon Joseph has a book called Meat Is for Pussies which is fantastic. Again, the same philosophy, these things became popular for me in my early 20s. It was the key for me. The whole non-harming, Ahimsa, yogic lifestyle.
Q: Do you find there is awareness in Canada around sustainable living?
A: I think there are pockets of people like yourself and in the SUSTAIN-like communities who are interested in it. In Toronto last year, a grocery store called "Unboxed" was launched. A fantastic initiative by those folks. To bring your own jars, containers, etc. Then again, is it accessible for everyone? Let's look at food security, for example at the Whole Foods in Oakville, it's incredible the products they carry there, obviously they've been researched and it's very finely curated. You know corporate or not corporate, there are talented individuals who seek out small farms and these one batch product makers, it's fantastic. Some of the products are so enormously positive and can impact your family's eating in a positive way, with the packaging being eco-friendly and in small batches, made from family farms. But it's 15 dollars. It's not accessible to regular folk.
The middle class, I mean that's rich people. The working poor used to be considered the middle class. Every one of us is actually working poor. No matter what your tax bracket is, everybody lives cheque to cheque. Even looking at some of my old Winnipeg cottage classmates, that's a dream for them. They can't afford it and it's not because they don't work. They have car bills, vet bills, etc.
Q: Would you share your thoughts on climate change and the environment? What can we do better in Canada?
A: I think it's a nightmare, it's terrifying. It seems like we're in a state of madness, but there is more and more awareness. People are using composting, a lot of stores are finally getting rid of plastic bags, and the elimination of straws is a big deal. You can think of anything, like tap-on applicators. There's so many disposable plastics… razors, toothbrushes, where do these go? Once you see the world in your everyday life through that lens, you're gonna start making different choices. It goes back to economic equity. If you wanna buy a biodegradable product or a toothbrush made of bamboo, it's gonna cost you more than a cheap toothbrush from a drug store. Many families can't afford to buy these fancy biodegradable products, so what can everyday people do? How can they implement changes in their lifestyles? Their children's lifestyles? There are simple things everybody can start doing. That's how everything is gonna change.
Q: You recovered following cancer treatment. Was there a "Eureka" moment for you in terms of rebuilding your health?
A: It was extremely interesting and a big learning curve for me. It was very surprising to me when I received my diagnosis, as I was a raw food vegan for a long time. And during cancer treatments, I tried very hard to adhere to a beneficial raw food diet. Like smoothies that included antioxidants items like blackberries, blueberries, kale, bananas, etc. But as time went on, I thought about the women in my chemo therapy group (as I became a peer-to-peer volunteer) who can't afford to put those items in their smoothie. What are they doing? How are they doing? How are they helping themselves/their side effects? It got me thinking about food policy and how expensive things are, and what are practical things people can do during cancer treatment?
Dill is an example. It sounds silly, but dill is not very expensive and when it is fresh, it is high in calcium. I wanted dill on everything! Dill, dill, dill! When I was in chemotherapy specifically. I thought this is because my bones were affected by this. I'm writing a book right now that is very specific about cancer, different techniques, etc. hopefully that will be out by next year.
Q: On elitism in charity…
A: I call it for "back pat." It's hard to find a balance because I prefer to shout out organizations doing good work than to plaster my selfies with patients. It's important to find balance.
Q: You own a CBD oil company called Monalisa Healing. Tell us more about that.
A: With launching Monalisa Healing, it was really born out of needing to find a product for my mother, who's 81 and broke her hip. They made cannabis legal in Canada, even though the government should have really consulted the 'stoners.' All they really did was make sure the black market was driving because the stuff they are providing is often ineffective and out of reach for people. With CBD oil, the market is exploding even though the market is unregulated. But because it's unregulated, like vegan protein powder, they can't tell you for sure if it really has 20g of pea protein. Anyone can put that on their label… and who's going to check that out every time? And the same goes for CBD, wanting to make a product that was non-intoxicating for Squares like my mom and for me who doesn't want THC, but wants some benefit for my wonky knees. We had to make it. We wanted to ensure that we were utilizing organic hemp from BC hemp farmers that we knew, and same with the MCT coconut oil. It had to be vegan.
Q: What made you want to create this in the sea of wellness products around us today?
A: We had to ensure that it was all cruelty-free practices. It was something important to us. And keeping it as an online company, that way we can ensure there wasn't any markup putting it in these elite fancy boutiques. Who carry CBD oils or beauty products that have CBD in them "allegedly." We just thought we were only gonna do one thing and do it with pure and simple two ingredients only, make the pricing fair and accessible, etc. And as we are just starting, we've done one special where a percentage of the proceeds were donated to animal welfare groups. We are also right now trying to implement having a pay it forward option, so that we can start providing CBD oil more cheaply to people who need it or to non-profit that really could benefit. Our money goes to lab tests from origin and then testing again at the manufacturer. Being able to assure not just me, but to my family members who use it to keep it pure and simple. I'm sure the other products on the market are fantastic, but it takes me back to my socialist way of thinking where it's only really marketed to who? Privileged people? Who has access to these products? And how can they benefit from it? If your product is pure enough, you should be able to put it with your lotion.
I'm not a scientist or an expert, I just know what works for me and my family. The '750' we say is for beginners or for pets. We wanted to have a product that anyone can use or for animals. It depends on what works for you. I think people like raw food vegan eating because it is bio-available. And I think the same goes for CBD oil. With our CBD oil, we like to take it under the tongue.
Q: I love your philosophy on trying to limit your footprint. I read that you choose walking whenever possible as your means of transportation, you don't have a television, etc. Do you think people should try to be more minimal?
A: I think there's a lot of benefits from minimal living. When I married my husband, Snake, in 2016, we moved in together, so I no longer have no television in my world. But he watches it more than I do. We don't have cable. We still walk everywhere, especially when we travel and are in a different city. It's all about the lens that we see through… we can make different choices. It is difficult not to fly when I do a speaking engagement in Vancouver, tour busses are very inefficient. I still drive my Hatchback that I got in 2008 (and my engine light is on.) I hope to get 20 years out of it, and if not I'll probably be walking or taking the bus. Walking is good for opening your mind, which is why I think it's often called walking meditation. It's healthy for the body and spirit.
Q: Tell us about your latest music projects and your evolution as an artist.
A: We've always been touring and putting out music, but I didn't really have the passion for an entire album up until the last year. Snake, Doug Furry (my old guitar player), and I began writing songs, and those songs became a vehicle for what I was thinking and feeling, more than anything I've had in the last 10 years. After I put my book out, I did a lot of national book tours/acoustic shows. But now it almost feels like this record took on a new life of its own. The record is called Champion. It will be out at the end of the summer. Primarily because I wanted people to hear the first three songs, in the order I wanted to put them out. Instead of getting the record and cherry picking the order. I guess it's part of my artist way of doing things, but it's exciting. I'm passionate about the songs, and if the first single "Jim" is any indication, I think the fans will really like it. (With the new record, I also don't wanna make any plastic. I don't think CDs and vinyl are needed to be made anymore, they aren't biodegradable.)
Q: I love your mindset on life, your music. You're a 'super human' and forward-thinking. Where does that come from?
A: Thank you, that's very sweet to hear. My parents were such squares, of course because they were academics, but also socialists. They were such liberal people. I remember in my primary they would make us watch Ghandi every three months. My dad was very proud because he was in a few different groups that marched with Dr. Martin Luther King Jr. They were into human rights, civil rights, etc. and instilled that mentality. I feel very fortunate to have had the parents I did.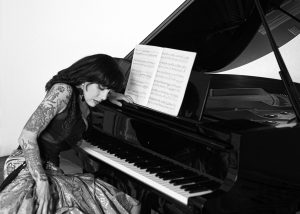 Photography by Coco & Kensington.
To keep up with Bif Naked, please visit: 
Instagram: @bifnakedofficial
Facebook: Bif Naked
Twitter: @bifnaked
Web: herroyalmajestys.com/bif-naked